"Back in the Saddle" – that's what I feel about my ass.  That is, that my ass is growing again.  Perhaps it is just the SuperBowl food still disgesting.
I walked into class this morning while they were on the second round of breathing exercises and maybe it wasn't the fact that I missed the breathing exercises and maybe it was just because I was tired…but I felt off the entire class.  NOT FUN.  I was late because I couldn't get my contact to want to go into my eye – sooo FRUSTRATING.
I decided to share with you the bruise I had from the stumble I had the other day.  I decided to have my fingers in the photo to show the size of the bruise.  She's a beauty – this was taken last night, so it has actually gotten a lot better.  Much like the bruise, I imagine this lady had when she fell (this is one of my favorite YouTube videos of all time).  The video is entitled, "Scarlet takes a tumble" and let me tell you, it was Jenny takes a tumble the other day!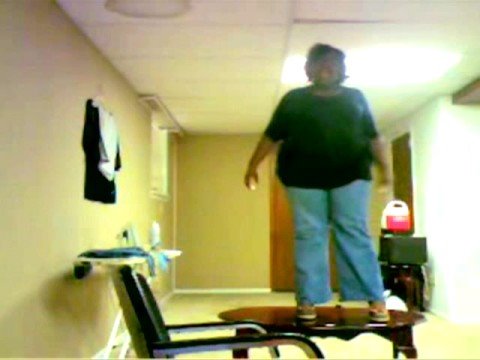 Today's Bikram yoga pose is of the Full Locust Pose or Poorna-Salabhasana.
I should have my knees straighter, but that will come in time.  Other than that, I think it decent…other than I don't enjoy looking at my backside.  Thank god people like Bill don't mind or I'd never get lucky.
Until tomorrow.  Namaste.